I wasn't sure what to think when I was approached by BBC's Don't Tell the Bride to photograph a wedding. As the name suggests, this reality television show, which is based in England, features grooms who plan the entire wedding without consulting their bride. One of the show's grooms, Lloyd, was planning a destination wedding ceremony on Muscle Beach in Venice.
Now I am very much an introvert. I do not like the spotlight. One of the reasons I'm a photographer is because I do not like being in photos. Not only would this wedding be a challenge because I had to photograph around multiple cameras, but I was mortified about accidentally walking into a shot. And what if they didn't edit me out?
I arrived early and talked to the super nice producers and crew. They reassured me that I would be fine. All I had to do was photograph the wedding as usual. That I knew I could do.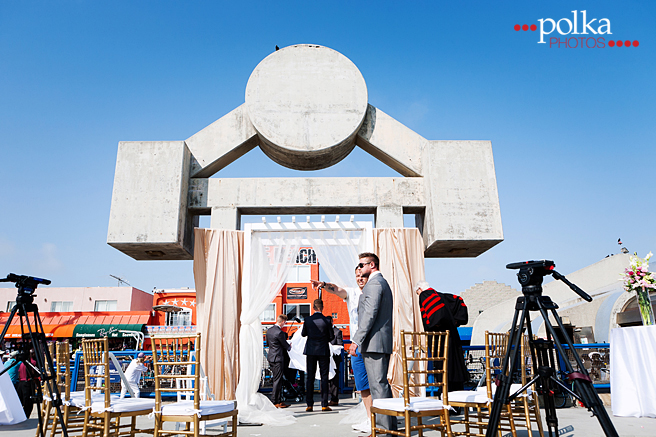 It was also unusual for me to talk to the groom for the first time on his wedding day. Lloyd was very sweet and I loved learning about him and his wife-to-be Victoria. Lloyd's uncle was a bodybuilder and he wanted to honor his memory by choosing the world famous Muscle Beach as the ceremony site. As you'll see in the photos, Lloyd likes to lift weights, too.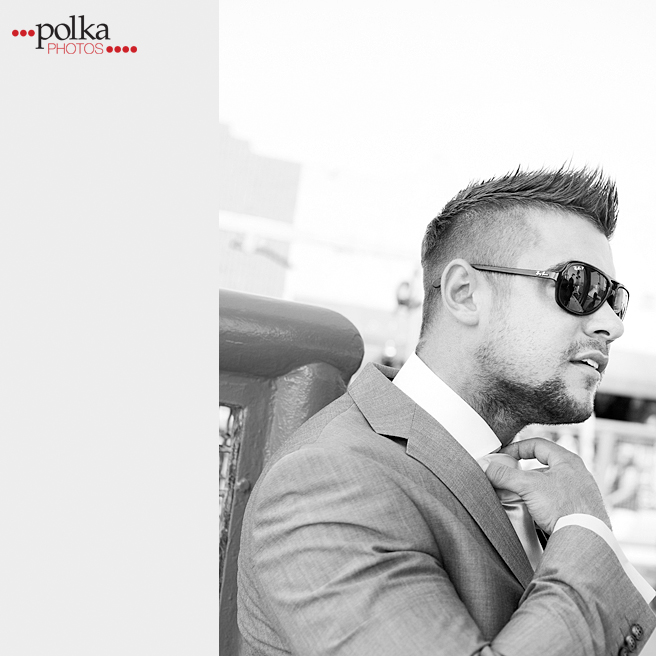 When I saw Victoria's gorgeous and unusual bouquet I knew there was a story there. The bouquet was lent to the bride by a close friend who was recently married. Her friend had the bouquet made from her mother's brooches and buttons as a way of remembering her mom who had passed away.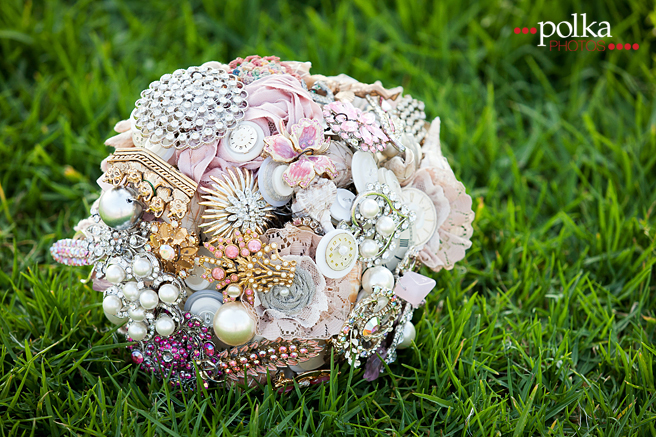 Since the wedding was planned in weeks not months, and guests had to travel all the way from England, only those closest to the bride and groom were in attendance. Not only were the wedding details a surprise to the bride, they were also a surprise to the guests.


Venice Beach is always busy. Add a wedding and some television cameras, and pretty soon a crowd gathered.


The bride walked down the boardwalk with her mom, daughter, and maid of honor.




Victoria wore a beautiful strapless wedding gown and a long, flowing veil, all picked out by her groom Lloyd.


The couple had not seen each other for the three weeks leading up to their wedding. Although Lloyd kept his cool, Victoria was very emotional. I almost started crying with her.




Their young daughter Sienna decided halfway through the ceremony that she wanted to be included.


How happy are these two? Love!




Lloyd took my advice and held that first kiss. And then they kissed again and again.






Their daughter tried pushing their faces together for another kiss. How cute!


After the wedding, the producers interviewed the couple.


I had about ten minutes with the bride and groom for portraits before we had to head down to the reception. I was so happy these bodybuilders posed for us! Thanks guys!


I was worried Lloyd's muscles were going to burst out of his suit a la Incredible Hulk. But I just had to photograph the couple flexing!


We walked down the boardwalk for a block and then had to go. Stay tuned for more photos from this awesome offbeat wedding tomorrow!