Capitola, California

Growing up in Chicago, winter was frost on the windows and icicles glistening in the sun, snow angels and sledding, quiet evening walks as snow spiraled from the sky, shoveling sidewalks and driveways and stuck cars, dressing in layers upon layers and seeing your warm breath make tiny clouds in the cold air, hot chocolate topped with mini marshmallows and of course Santa with his long white beard dressed in a warm red suit trimmed in fur and tall black boots.
Since moving to L.A. a few years ago, we're always looking for experiences unique to California. Palm trees covered in lights, Christmas boat parades, walks on the beach alongside swimming dolphins and Hunky Santa at the Beverly Center.
This year we headed up north to Capitola for Surfin' Santa. Capitola is a friendly beachside city just south of Santa Cruz.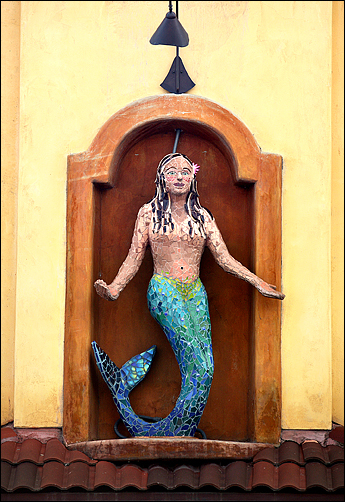 Santa Claus comes to the Main St. beach the Saturday after Thanksgiving to listen to all the children's requests for bicycles and dolls and cell phones and Wiis. This year he paddled to shore with a couple of his elves, led by his reindeer on surfboards.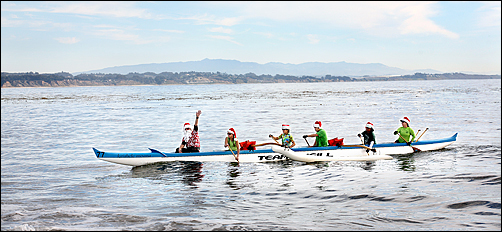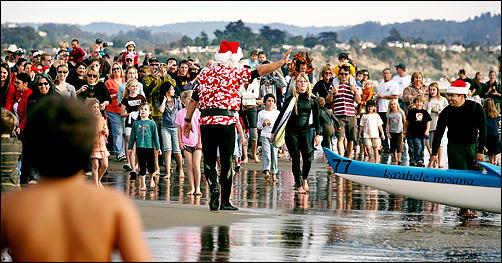 As the children waited in line, Michael and I explored the town.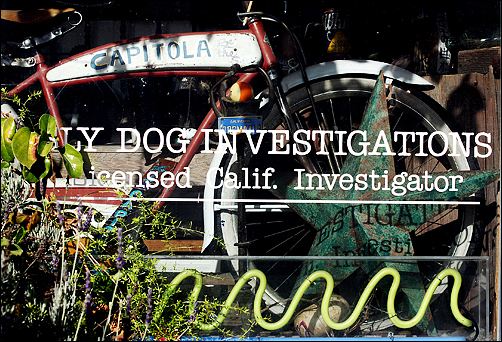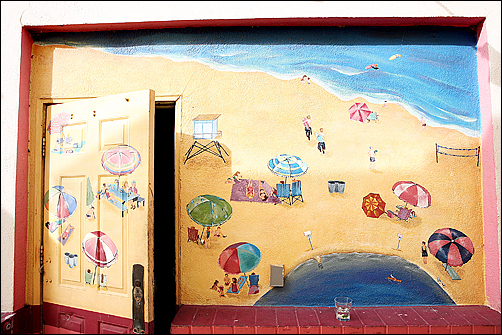 Outside of
Cafe Violette
, which has the best ice cream, we came across this vintage car.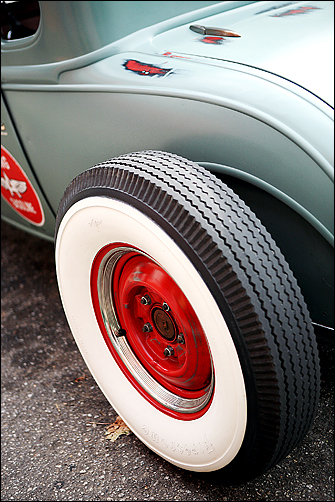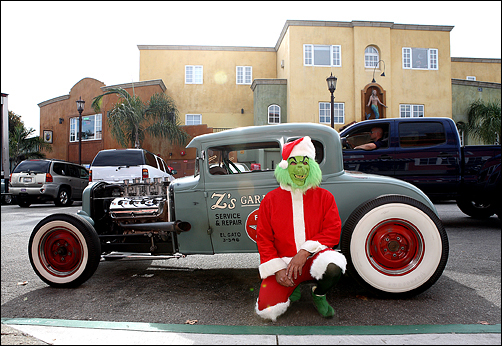 Even the Grinch couldn't spoil the day for us. We looked in all the little shops along the Esplanade. You can do all of your Christmas shopping here: get t-shirts at Sea Level T's, seashells in the appropriately named Capitola Seashells located in the Mercantile Exchange, and all of your pirate gear at Turtle Shells. The
Craft Gallery Annex
was one of our favorites for unique gifts from pendulums and whimsical sculptures to address books decorated with sassy women in 50's fashion sporting a witty blurb above their heads.
The best gift of all was from the city of Capitola itself –
FREE
parking!