Welcome ladies and gentlemen to the main event of the night, the lucha libre wedding here at Simons Lodge in Los Angeles.
Introducing first, hailing from Southern California, the tag team champions of the world, Olga and Armandoooooooooo!
Offbeat weddings rock! When I found out this couple was having a luchador themed wedding I knew we would click. The mother of the bride designed the entire event around the lucha libre theme incorporating many traditional Mexican details, a fun way to pay homage to one's ancestry. This is taking DIY to another level!
(If this theme inspires you, check out the resources we've compiled in our shopping guide at the bottom of the post.)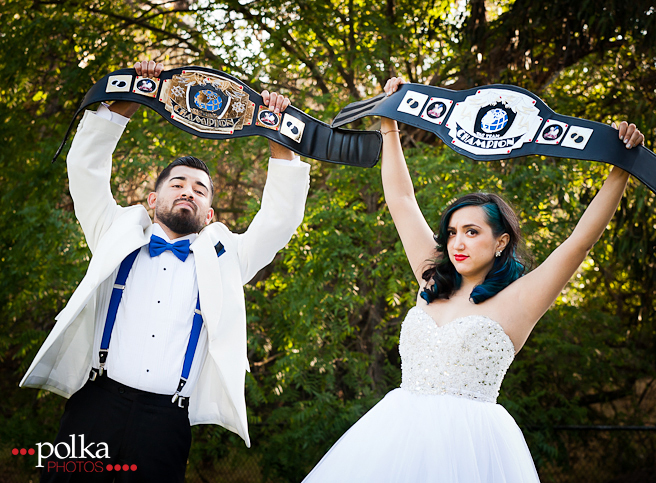 Olga is a little bit punky and a lot of creative, offbeat and fun!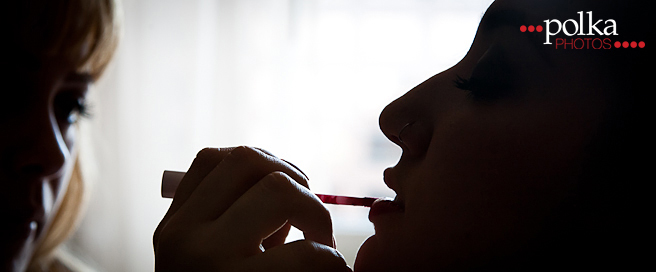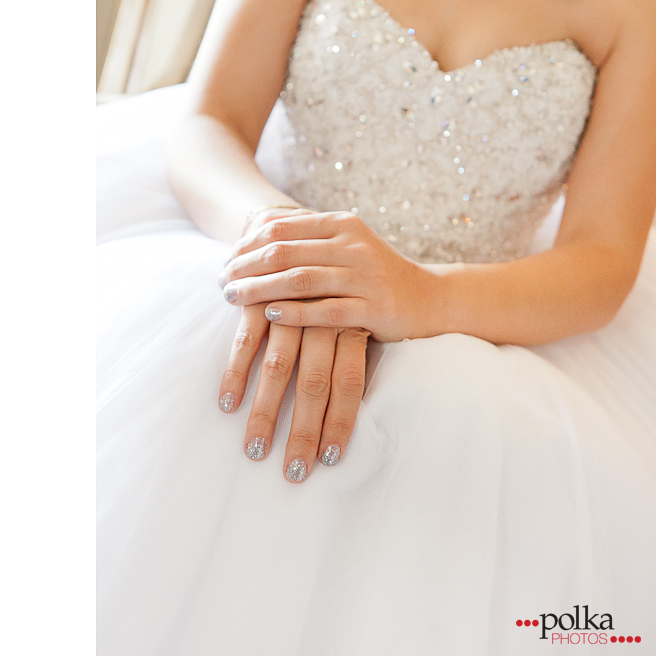 Olga and Armando's short wedding ceremony is officiated by her brother-in-law as they are surrounded by close family and friends. The couple met at the bank where Armando works. After seeing Olga a few times, he finally got up the nerve to ask her out.


The bride and groom are all smiles!


And so is the father of the bride.


Olga's sister has a punky streak in her, too. Love her style!


The groom places the ring on the bride's finger, making it official.






First kiss!


You can't have a lucha libre wedding without luchadores!


The styled ceremony area with a red velvet couch surrounded by colorful flowers is a great spot for romantic portraits of the newlyweds!


The bride's blue heels coordinate with the groom's blue socks. This is one stylish couple!


You can't pose happy. My favorite portraits are full of spontaneous emotion.




How sexy are these newlyweds?




This colorful bouquet was also made by the mother of the bride.


The details are nothing short of amazing. The table settings consist of a white tablecloth covered with a sparkly gold organza overlay and colorful Mexican blanket table runner.  Colorful flowers in a gold container serve as the centerpieces and an array of Mexican themed decor such as lucha libre matchboxes, Mexican wrestler masks, mini ceramic maracas, and luchador cookies are the perfect final touch. The couple also set up an area for selfies in front of a gold backdrop with a big red heart. Guests could opt to wear sombreros for their portraits.


The couple chose simple white place cards arranged on a lace tablecloth.


Love these sparkly lucha libre matchbooks!


Mexican food is my favorite!


The newlyweds laugh throughout their first dance. You can see papel picado – Mexican paper cutouts – behind the couple.


Olga's abuela cuts up the rug with her grandson.


Why yes, those are calavera skeletons dressed as a bride and groom.


Congratulations Olga and Armando! Wishing you many more fun years together! You truly are tag team champions!


Shopping Guide
Not sure where to get started? Here are some great resources we found for you.
Cupcakes
Let's start with dessert first. Viva Los Cupcakes makes delicious cupcakes using traditional Mexican flavors like Tamal con Mole, Tres Leches, Churro con Cajeta, and Horchata. My favorite – Margarita. Try them for yourself and you'll be convinced.
Save the Dates
Announce the theme early with papel picado day of the dead tile magnets from Etsy Store La Santa Muerte.
Invitations
There are so many cool invitations! Our favorites are from Line 117: calaveras & roses, bride and groom skeletons, and sacred heart papel picado printable DIY.
We also adore the beautiful letterpress from pistachiopress, sugar skulls in a heart by NotedOccassions, classy red papel picado from deaandbean, the calaveras from OddLotEmporium, and the printable DIY templates from dollfacedesign.
Thank You Cards
Love these luchador thank you cards from La Familia Green.
Papel Picado / Paper Cutouts
For a traditional romantic feel of Mexico at your wedding, hang papel picado at the ceremony or reception. Papel picado banner strings have been used in front of churches and in patio receptions for hundreds of years. You can even customize the cutouts with your names and wedding date. Check out Etsy store AyMujer.
Tissue Flowers
If you don't have the time to make your own, you can find some colorful fiesta flowers at the Pom Garden shop on Etsy.
Colorful Table Runners
Add color to your table setting by using a bright table runner. You can find many different designs on Etsy: MexFabricSupplies, Mexicanhomedecor, and Mango Tree Creations
Pillows
Dress up a seating area with pillows featuring photo scans of colorful Mexican Loteria tickets, a game similar to bingo, from PillowandPocket also on Etsy.
Sugar Skull Party Favors
A Mexican wedding wouldn't be complete without Day of the Dead skulls, or Calaveras. You can buy the mold or already decorated favors from Reign Trading Co. at MexicanSugarSkull.com.
Matchboxes
I love the matchbook party favors from My Mercado Mexican Imports on Etsy.
Cake Toppers
Nothing says Mexican wedding like a sugar skull bride and groom cake topper like this one from Etsy shop LaSantaMuerte.
Wedding Favors
I am in love with the personalized Mexican tiles from thepotatofarm on Etsy as well as the Loteria cards from vivalapress.
What would you add to the list?