Blogging about the lucha libre wedding last week reminded me of the time Michael spent in the ring. Yes, my husband, Michael, the writer, the photographer, the aspiring luchador. Here's the story in his own words:
Every child has his heroes, his field of dreams. The daydreams, the moments spent imagining the last minute drive, the buzzer beating shot, the walk-off home run. My friends were worshipping Joe Montana and John Elway, dreaming of flying like Spud Webb, Dominique Wilkins, and young Michael Jordan, throwing a slider like Roger Clemens or knocking one out of the park like Andre Dawson.
Me? I was in the family room with my brother. He had a towel draped around his waist like a kilt, channeling "Rowdy" Roddy Piper while I Hulked up to defend America. Yeah, we were those kids. The wrestling fans. The ones who would challenge other kids in the neighborhood to wrestling matches.
What if I could get into some kind of cool Hitman Hart-like outfit and kick ass for my legions of fans? What if I could be a professional wrestler? There were things to think about…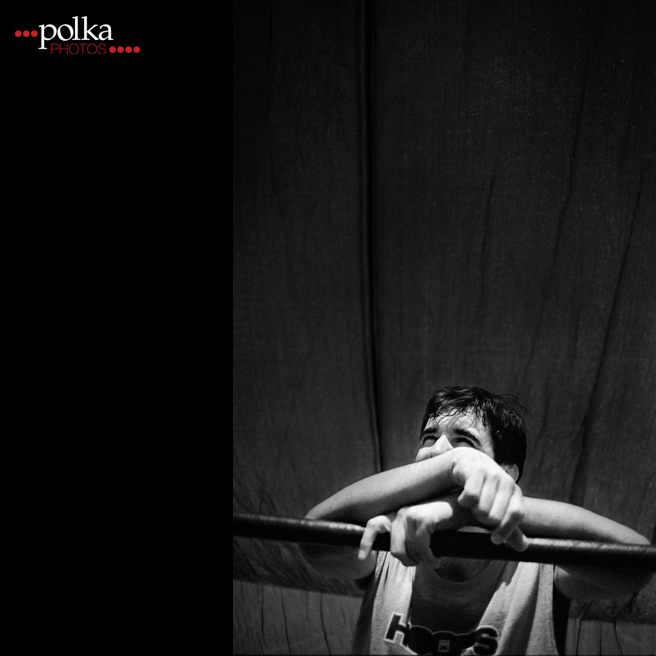 A few years ago, my then fiancée, now wife, Aleks, took it upon herself to get me the coolest birthday present ever… she was sending me to wrestling school. I was overjoyed. But then I was hesitant… was she trying to bump me off to steal my riches? Was she punishing me for not yet learning how to salsa dance properly? Or was she illustrating the old adage: "Be careful what you ask for…"
My teacher was Martin Marin, owner operator, CEO, head honcho, El Genio of World Power Wrestling. Martin is probably the nicest guy you'd ever meet who could also crush you like a grape. This is where I'd be spending the next six Sundays.
Day One
I was introduced to everyone by their ring name, and being that I am horrible with names, this is the only way I know how to refer to them now. But hey, if I could get people to call me Catastrophe or Mr. California or Kid Omega in everyday life, well that would just be nifty. So here I was, in a parking lot next to an indoor flea market, staring at a dusty ring that was once used by Ted Turner's World Championship Wrestling. A ring that may very well have been worked by Ric Flair, Sting, Hulk Hogan… The point is, this was my equivalent of stepping into Yankee Stadium. This truly kicked ass. And I hadn't even done anything yet.
Martin spent the first day showing me the basics. Proper stance, the difference between Mexican Lucha Libre style and American Pro style, forward rolls, and basic lock ups. Aside from standing properly, I think I managed to mess up every other thing I was taught.
The following weeks were a blur. These are points I remember:
1. The Bump Lesson
Martin had me squat down and grab the second rope. From there my job was to fall backwards and take a bump across my shoulders. The important point: tuck my chin to prevent concussion. Guess which part of the lesson I forgot midway down on my first try?
I wish I could describe accurately the feeling of taking a bump. It would be something like this: Have someone pat you lightly on the back. Now have them do it a little harder, until you feel it in your lungs. Now imagine their hand is about the size of a large briefcase and that they're hitting you as hard as they can. It hurts more than that.
2. Running the Ropes
Frequently matches involve one grappler running the ring, bouncing off of the ropes to gain momentum. This appears smooth, effortless, almost graceful. In reality, the ropes are thick steel cables with all of the cushioning of a thin layer of tape. If you hit the ropes incorrectly, you can tweak your ribs, hurt your shoulder, and bruise yourself without trying. Sounds like I'm speaking from experience, doesn't it?
This was as far as my lessons got. I could put together a few spots, simple lock-ups, arm drags, hip tosses, and yes, running the ropes. I'd like to pretend I was an ass-kicking, beer-guzzling, finger-waving, S.O.B. like Stone Cold Steve Austin. But I was more like a bruised and hurting little schoolgirl.
I do, however, have a picture that makes me look like I won.