In case you haven't noticed, I adore weddings. From simple to extravagant, intimate commitments to big celebrations, rustic outdoors to chapels and cathedrals and city halls, bohemian chic to elegant black-tie affairs – I love them all. The most important part of every wedding is the marriage. There are many books written on what makes a marriage work. I know that it takes a committed couple, and it doesn't matter how young or how old or how many years (or days)  they've known each other.
Diana and John grew up in California but met on a ship when serving for the US Navy. They were young and in love. They didn't have the time or money for a big wedding, but they knew they wanted to get married. So they eloped to City Hall for a courthouse wedding.
Ten years later, they are happily married and just as in love. I was very excited to photograph their church wedding at the Cathedral of Our Lady of the Angels.
Diana and John wanted to pay homage to their first wedding so we stopped for a quick portrait in front of Los Angeles City Hall. Congratulations on your 10-year anniversary!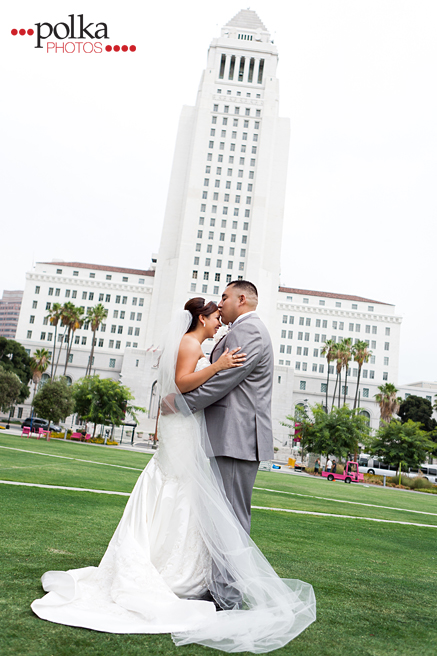 Are you planning a wedding at City Hall? We would love to photograph your day!