Did you watch Mitch & Cam's wedding on Modern Family? I was excited to see one of my favorite wedding venues on the show – the beautifully rustic Calamigos Ranch in Malibu.
I loved photographing Bailey and Aleksey's wedding at Calamigos last summer. They held their ceremony outside amid the tall oaks and redwoods. The parasols were a beautiful added touch.

The day started with getting ready photos.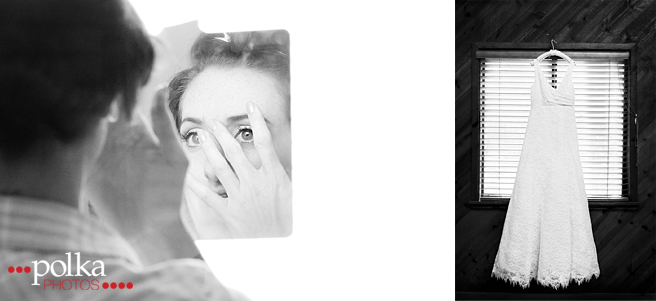 Bailey had beautiful vintage touches with her classic pearls and lace garter.


I couldn't resist taking a photo of the bride before she put on her dress.


One last check in the mirror before seeing her groom for the first time.


Aleksey fixes his tie as he waits for his bride. I loved the outdoor chandeliers in the walkway.


The bride and groom decided to see each other before the ceremony. I loved capturing that moment.


Quick portrait before the bride was whisked away into hiding.


The father of the bride walked Bailey over the bridge and down the aisle.


How beautiful is this arbor? The flowers were all done by
Malibu Event Planning and Design
.




Photographing through the chandeliers.


The happy couple walked down the aisle.


After the ceremony, we explored the grounds.


Awesome bridal party.




Bailey and Aleksey loved all the greenery. So did I.




The couple's program and place cards shared a theme.


The first dance is my favorite part of the reception.




I have no idea what was so funny, but his expression was priceless.


The bride and her maid of honor watch the groom dance with his mom.


The bride and groom made their grand exit surrounded by their guests and lots of bubbles.


Now that's a sweet ride!


Congratulations Bailey and Aleksey! Wishing you all the best!!!